• blackfriday • Christmas Gift • Made in America • michigan • michigan gifts • michigan made • mittens • pure michigan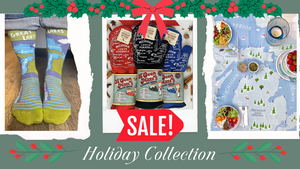 Shop the Holiday Sale and SAVE 25% off all products in this collection! Discount will show in your cart. Happy Holidays from your friends at Michigan Mittens! Shop the SALE here
---
• American Made • detroit • Discount • Gifts from michigan • Great Gifts • great lakes • High Five • Made in America • Made in America Product showcase • michigan • michigan made • michigan map • michigan mittens • Michigan State • Mitten state • mittens • pontiac • Pure Michigan • State of Michigan • Support Local • USA • USA made • Washington DC • White House

Michigan Mittens has been selected to represent the State of Michigan at the Made in America Product Showcase on July 15th, 2019 at the White House! We are absolutely thrilled, humbled and so very honored to have been chosen to represent our AMAZING State! As a thank you to our fans & friends we are offering you a 30% discount site wide from July 1st-21st, 2019. Please use coupon code 'HIGH5USA' at checkout. Thank you all for your continued support over the last 12 years! We would not have gotten here without you all! God Bless America!!
---
• American Made • extreme cold • Gifts from michigan • Made in America • michigan • michigan made • michigan mittens • Mitten state • mittens • Polar vortex • Pure Michigan • Support Local • USA • USA made • Winter • wool mittens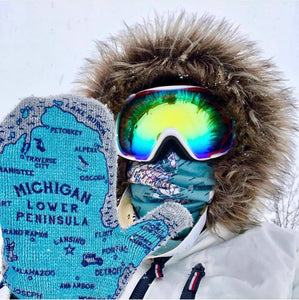 The cold temperatures have finally arrived here in the Mitten State with wind chills dropping down to -40 in some areas! Staying warm is a top priority this time of the year and we are here to help. Our original Michigan Mittens are what we call a "functional novelty", meaning they are designed more for cool weather and showing people on your mitten where you're from. On the other hand, our Superior Michigan Mittens are made to keep your hands toasty warm even in the harshest of cold winters. The wool outer shell with acrylic liner holds the heat of your...
---
• American Made • detroit • gifts • Gifts from michigan • Made in America • michigan • michigan made • michigan mittens • Mitten state • mittens • New Product • Pure Michigan • Support Local • USA • USA made • Winter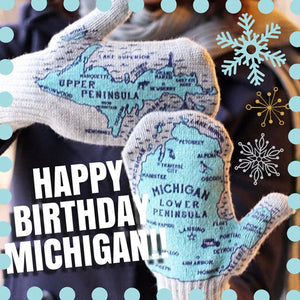 ---
• great lakes • lake superior • map mittens • michigan • michigan mittens • Mitten state • mittens • superior • superior mittens • superior watershed • wool mittens